Top Totoaba and Marine Animals International Traffickers Have Been Arrested in the U.S. with the Support of Earth League International
A big victory for the last remaining vaquitas and the marine life in Baja California. With the technical support of Earth League International (ELI), after a long investigation, U.S. Law Enforcement agencies decapitated totoaba trafficking from Mexico, offering a glimmer of hope for this critically endangered species. Only 10 vaquita still survive in the Sea of Cortez, making it the most endangered mammal in the world.
Near San Diego, U.S. law enforcement agencies arrested two of the most important totoaba and marine animal traffickers, who have been operating between Mexico, the U.S., and China for many years, making millions of dollars, undisturbed.
These arrests were facilitated by the discreet investigative work of ELI's team over the past few years as part of 'Operation Fake Gold.'
The individuals arrested were:
– Zifeng "Gabriel" Wu, a Chinese citizen, was indicted on a conspiracy charge and eight other charges related to buying, selling, and importing totoaba bladders, as well as other endangered and protected marine animals, including critically endangered hawksbill sea turtles, seahorses, and sea cucumbers.
– Chin M. Wang and a second defendant were also charged with four counts related to the sale and importation of totoaba bladders. Wang and her co-defendant allegedly sold 23 of the bladders to a law enforcement informant for $247,000. Wang allegedly told a confidential informant that she had a total of $2 million worth of totoaba bladders.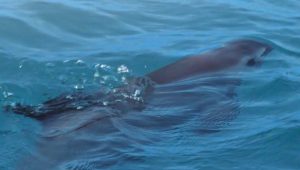 ELI launched 'Operation Fake Gold' in 2017  with the aim of identifying and targeting the most important totoaba traffickers driving the destruction of the vaquita and the marine life in Baja California. Following the publishing of a public report in 2019 and directly supporting the work of a public prosecutor in Mexico City, ELI stopped sharing information with the public in order to protect ELI's investigative activities.
ELI then began collaborating with U.S. law enforcement agencies to target the environmental criminals at the very top of the international wildlife trafficking networks in the region.
The collaboration between ELI and U.S. law enforcement agencies highlights the effectiveness of a long-term intelligence-driven approach in targeting and prosecuting the world's top international wildlife traffickers. 
The ELI team commends the dedicated work of the U.S. law enforcement agencies involved in the arrests and of the federal prosecutors in San Diego. They set a commendable example for other nations and organizations engaged in fighting wildlife crime at the highest possible level.
ELI's team highlights that dismantling the networks of top international wildlife traffickers is the most effective approach to combating nature crime around the globe.
Here's the news released by the prosecutors' office in San Diego.