EARTH LEAGUE INTERNATIONAL, THE INTELLIGENCE AGENCY FOR EARTH
OUR MISSION
EARTH LEAGUE INTERNATIONAL PROTECTS WILDLIFE, FORESTS, OCEANS AND BIODIVERSITY THROUGH INTELLIGENCE-GATHERING FIELD OPERATIONS, RESEARCH AND INVESTIGATIONS, IN COOPERATION WITH GOVERNMENTAL AGENCIES.
WE TARGET THE MOST IMPORTANT INTERNATIONAL WILDLIFE TRAFFICKERS

AND ENVIRONMENTAL CRIMINALS IN THE WORLD, THEIR NETWORKS AND LINKS TO ORGANIZED CRIME
Earth League International is an innovative non-governmental organization that fights environmental/wildlife crime by merging the worlds of conservation, intelligence, investigation, research, analysis, and media production.
As pioneers in the use of professional intelligence applied to environmental crime, and with a significant track record, we have been working for over a decade with top professionals from various fields, including conservation, intelligence, investigation, analysis, geospatial intelligence, technology and media, to create a unique bold organization willing and capable of fighting Environmental/Wildlife Crime at the highest possible level.
At its core, Earth League International applies professional intelligence expertise to disrupt the proliferation of Environmental/Wildlife crime around the world. We identify and investigate the most important environmental criminals and wildlife traffickers in the world, we research their networks, the links to Transnational Organized Crime,  and the Convergence with other serious crimes, such as money laundering, human smuggling, corruption, and drugs. We target transnational criminal organizations linked to environmental crime, international traffickers, middlemen and corrupt government officials.
Intelligence is the knowledge – ideally the foreknowledge – that leads to the understanding of criminal network systems which is vitally important for our partners, and governmental authorities to identify points of interdiction, to operationally disrupt the criminal systems, and to safeguard people and wildlife.
The intelligence-led approach is needed to integrate the more traditional "reactive" conservation models with a more proactive, impactful, and disruptive approach.
Our team and network of collaborators include professionals who have been working in the intelligence and investigation fields for decades, mostly for top governmental agencies, including the Federal Bureau of Investigations (FBI), the National Geospatial-Intelligence Agency (NGA), and other governmental agencies.
We collaborate with a few U.S. law enforcement agencies, including Homeland Security/HSI and Fish & Wildlife Service, and with various academic institutions, including the John Jay College of Criminal Justice in New York, and the Florida International University in Miami.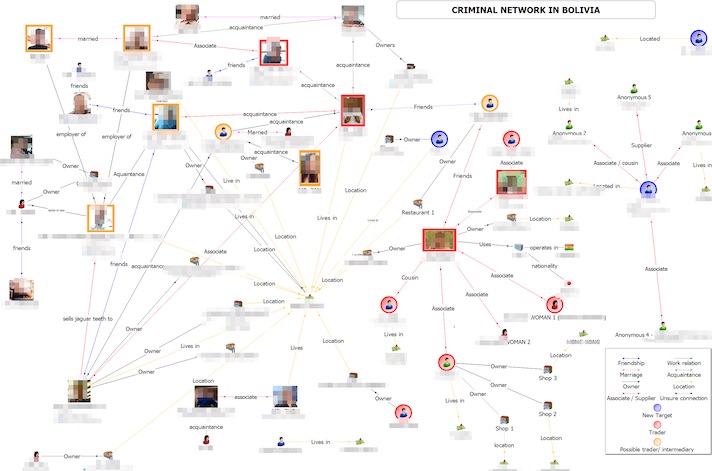 Earth League International is a fact-finding organization, it accelerates justice and operates at the nexus of civil society and law enforcement – bridging the resource, knowledge, and priority gaps exhibited by many government and law enforcement agencies around environmental crime.
During or upon the conclusion of our field operations, ELI prepares Confidential Intelligence Briefs (CIB) to share with relevant governmental and law enforcement agencies at national, regional, and international levels, depending on the nature of intelligence and which agencies are well-positioned to take effective action. The CIB is arguably the most important piece of output from our intelligence and investigative activities. It is the CIB that provides law enforcement authorities the means by which to take immediate action.
As with the fight against other global threats, such as terrorism, drug trafficking or organized crime, intelligence should be at the center of our efforts to fight environmental crime. It is, and should be used as, a strategic resource to focus investigation and law enforcement activities, policy changes and funding. ELI produces intelligence as a strategic interactive resource providing opportunity to effect change in governmental policy, investigations and law enforcement activities

Our 3-Pillar integrated approach:
1. INTELLIGENCE & ANALYSIS: Information-Gathering, Research, Investigations, Analysis, Intelligence Production & Dissemination
2. WHISTLEBLOWING & THE WILDLEAKS PROJECT: WildLeaks, the world's first whistleblower initiative dedicated to environmental crime
3. MEDIA & PUBLIC OUTREACH: Public reports, documentaries, TV series, podcasts & graphic novels focused on raising awareness of the impact of environmental crime on the environment and on the people. On May 31, 2023 ELI was the cover story in The New Yorker.
It is this expertise and flexibility that allows us to operate in situations and locations where other NGOs or governmental agencies are unable or unwilling to operate.