THE THIRD PILLAR OF OUR WORK IS MEDIA PRODUCTION AND PUBLIC OUTREACH
We believe it is important to partner with top players in the film and media industry to be able to produce content that can reach millions of people worldwide. Media products and storytelling can become powerful conservation tools, and we proved it already multiple times.
Nongovernmental organizations (NGOs) play a crucial role in achieving global awareness that transcends the national political boundaries and facilitates a real collaboration between all the stakeholders. Enhancing communication efforts and engaging governments and the public opinion with facts and new points of view are among the most noteworthy functions of any NGO, and in particular of the Earth League International.
Media production and public outreach should always be at the core of any environmental organization, for their central role in shaping public perceptions and working to influence public policy in order to achieve positive and long-lasting changes. Earth League International strives to always engage the stakeholders with courage and humility, to focus on concrete and effective activities, and to remain independent and outspoken.
Please note that ELI does not always release media briefings in relation to our operations, the work of government partners, and arrests, as doing so would jeopardize the safety of our teams in the field, law enforcement operations, and future investigations. We do keep our board members and main donors fully informed.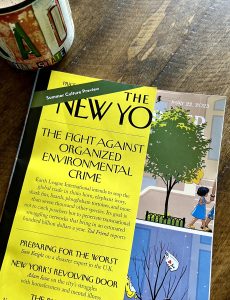 The New Yorker: the Cover Story
After nearly a year of work with a reporter embedded in our team, The New Yorker magazine published a long feature article about Earth League International and our work in the field to fight environmental/wildlife crime. It was the cover story on the May 22, 2023 issue.
For the first time in our 10-year long history, we gave full access to a top reporter who spent time with us in the field and back home, interviewed over 200 people around the world, and personally witnessed how we work and how we help law enforcement agencies to go after the most important wildlife and environmental criminals in the world.
"Our partnership with ELI is invaluable. Their access to these particular criminal networks is simply something we can't do." This is how Chris Egner, the Homeland Security/HSI agent who works most closely with our team, describes ELI to reporter Tad Friend in our feature article in the The New Yorker.
This is the online version:
Documentaries
We were among the main protagonists in two of the most important environmental documentaries of the past 4 years, The Ivory Game (Netflix), that won the Beijing Film Festival in 2017 and many other awards, and Sea of Shadows (National Geographic/Disney+) that won the Audience Award at the Sundance Film Festival in 2019. Both documentaries were co-produced by Terra Mater Factual Studios and Leonardo DiCaprio, and directed by Richard Ladkani.
We are currently working on a new documentary series.
THE IVORY GAME, premiered at the Telluride and Toronto International Film Festivals 2016, and short-listed for the Oscars 2017, features the co-founder of Earth League International and the whistleblowing initiative WildLeaks, Mr. Andrea Crosta, among other protagonists, as it reveals the dark world of the complex international ivory supply chain. The Ivory Game is a Netflix documentary produced by Terra Mater Factual Studios and Vulcan Productions, in collaboration with Appian Way and Leonardo DiCaprio.
SEA OF SHADOWS, premiered at the Sundance Film Festival 2019 (it won the Audience Award), is a powerful documentary featuring Operation Fake Gold and the work of the Earth League International's undercover teams led by Andrea Crosta, among others. In Mexico's Sea of Cortez, a group of brilliant scientists, high-tech activists, investigative journalists, and courageous undercover agents attempt to rescue an endangered whale while battling the Mexican drug cartels and Chinese traffickers whose destructive poaching methods are threatening the region's marine life. Directed by Richard Ladkani, Sea of Shadows is produced by Terra Mater Factual Studios, in collaboration with Appian Way and Leonardo DiCaprio. You can watch it on Disney+ and Amazon Prime.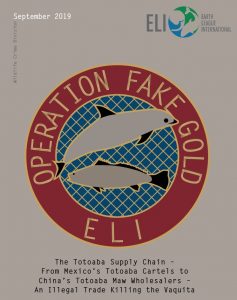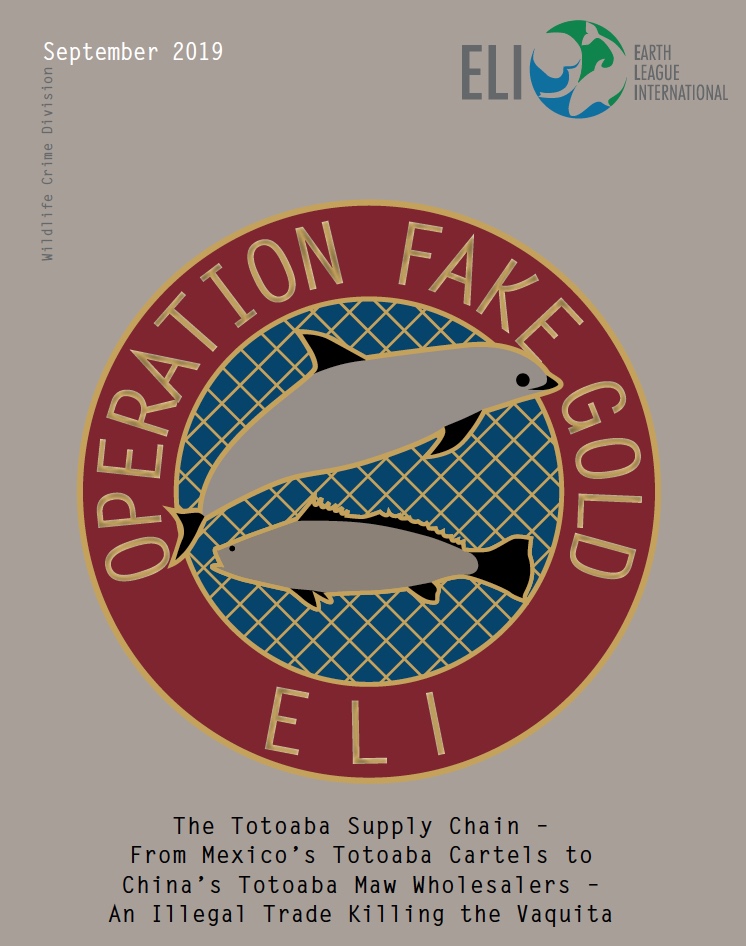 Public Reports
In the past years we published multiple Public Reports that are widely considered among the best and most comprehensive public reports produced by an NGO, and our work has been mentioned by countless media around the world, referenced by other reports and used by universities and schools.
ELI's work has been featured in hundreds of articles on the most important medias in the world, including National Geographic, The New Yorker, The Washington Post,  CNN, The Guardian, Liberation, Wired, New York Times, Al Jazeera, Smithsonian, and many others.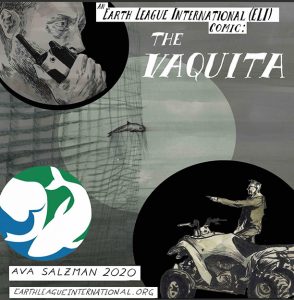 Graphic Novels
In March 2020 we launched a graphic novels and comics project designed to spark more awareness and understanding of the complex world of environmental and wildlife crime. It is the first graphic novel series dedicated to environmental crime. https://earthleagueinternational.org/graphic-novels/
We closed a partnership with the well-known Dutch website 'Drawing the Times' dedicated to graphic journalism to be able to show our comics to a wider audience.