WE PARTNER WITH NATIONAL AND INTERNATIONAL GOVERNMENT AGENCIES,
ACADEMIC INSTITUTIONS, MEDIA AND OTHER NGOS
ELI collaborates with like-minded organizations who are dedicated to eradicating environmental and wildlife crime and dismantling the global criminal networks behind the criminal exploitation of Earth.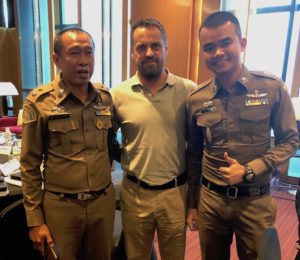 Law Enforcement and Government Agencies, Inter-Governmental Organizations
We collaborate with law enforcement agencies in the U.S. and abroad, providing confidential information and various intelligence products to support their investigations into environmental/wildlife crime, domestically and internationally.
In the U.S. we routinely collaborate with U.S. Homeland Security/HSI, U.S. Fish & Wildlife Service, NOAA, and other government agencies. These collaborations led to important arrests in the U.S.
Abroad we have been collaborating and sharing information with public prosecutors and authorities in Mexico, Bolivia, The Netherlands, Thailand, Vietnam, Kenya, Tanzania and South Africa, among others. Most of these collaborations led new investigations and significant arrests. 
We also collaborate on capacity building and sharing of information with inter-governmental organizations such as UNODC, CITES, and INTERPOL.
Academic Institutions
Collaborating with leading academic institutions in the US and around the world is very important for Earth League International. This partnership empowers us to access cutting-edge research, leverage expert insights, and foster innovation, enabling more effective strategies and solutions in our ongoing fight against environmental crime and the preservation of our planet's precious resources.
We collaborate with the Florida International University (FIU) in Miami, the John Jay College of Criminal Justice in New York, and the TraCCC research center within the Schar School of Policy and Government at George Mason University in D.C., among others.
Partnerships and Alliances 
ELI is a member of IUCN North America, the Nature Crime Alliance and the International Coalition Against Illicit Economies (ICAIE).
NGOs and Media
We collaborate with various NGOs that share our mission and values, such as IUCN Netherlands, IFAW (International Fund for Animal Welfare), and the National Marine Mammal Foundation.
We discreetly collaborate with a few selected media organizations, such as Mongabay and OCCRP.