ELI's Executive Director, Andrea Crosta, discusses ELI's current investigations, trends in animal trafficking, and the importance of intelligence gathering as it pertains to stopping the illegal wildlife trade
ELI's Executive Director Andrea Crosta was recently featured in a special Spear Talk Podcast episode.
Crosta discussed the intelligence trends of the past year which pertained to international traffickers and wildlife trafficking's convergence with the illegal drug trade and human smuggling.
ELI's Operation Jaguar and Operation Stella Maris are two of our most important ongoing operations in the Americas and Asia. These operations provide evidence of Multiple Crime Convergence, in which the same traffickers/networks engage in other serious crimes such as human smuggling, money laundering, and drug trafficking.
Crosta also discussed the endangered species list, the need for increased awareness regarding the impacts of international wildlife crime networks, the importance of funding to ELI's work, and much more.
Watch / listen to the podcast here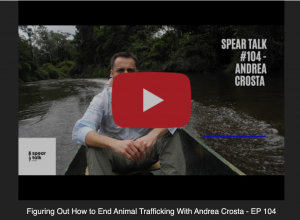 "For Spear Talk episode 104, we once again welcomed Andrea Crosta back to the show! Andrea is the founder of Earth League International. You can see Andrea and his team in two incredibile documentaries, "Sea Of Shadows" on Hulu and "The Ivory Game" on Netflix.
In our discussion we covered how the last year has played out in terms of intel and trends as it pertains to the traffickers, how animal trafficking is tied into the illegal drug and human smuggling trades, how the Sea Of Cortez is still an issue as it pertains to the hunting of totoaba and subsequent killing of the vaquita, the endangered species list, what it takes to bring awareness and funding to ELI, and so much more!