OPERATION RED CLOUD: Rhino Horn Trafficking from Africa to China
OPERATION RED CLOUD: GRINDING RHINO
The First Undercover Investigation into Rhino Horn Trafficking from Africa to China in Decades
Los Angeles, July 18, 2017. Earth League International (formerly Elephant Action League) is proud to release GRINDING RHINO, a public report detailing another expansive and successful undercover investigative operation. In response to unprecedented growth in rhinoceros poaching rates in the past ten years, and enduring consumer demand for rhinoceros horn in both China and Vietnam, ELI commenced Operation Red Cloud in August 2016 and ended it in June 2017.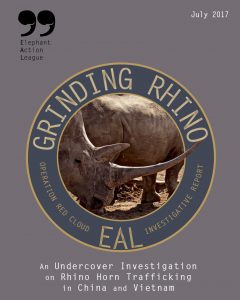 Operation Red Cloud is the first undercover investigation into rhino horn trafficking from Africa to China in decades. This 11-month intelligence gathering and investigative operation was designed to expose and map the networks, the players and the means (or 'modus operandi') by which rhino horn is trafficked into China. Today, ELI is releasing the results of this incredibly comprehensive operation.
A separate 200-page Confidential Intelligence Brief (CIB) has been prepared for law enforcement only, and it includes detailed information and evidence on 55 identified Persons of Interest involved in rhino horn trafficking in China and Vietnam.
Although completely illegal since 1993, anyone with the desire and means can easily buy rhinoceros horn in China. All you need to do is walk into an 'antiques' shop and ask.
The rhino horn products they show you are far from antique, though, they are new and have most likely been illegally trafficked from Africa to Vietnam and then into China. The report Grinding Rhino: An Undercover Investigation on Rhino Horn Trafficking in China and Vietnam, shows us exactly how rhino horn makes its way into those shops in China, now the largest illegal market for rhino horn in the world.
For Operation Red Cloud, in addition to off-site research and intelligence analysis, ELI investigators executed multiple field missions to China and Vietnam. ELI targeted provinces along the southern border of China — Guangxi, Guangdong, and Yunnan — as well as Henan, Fujian, Beijing, and a few key locations in Vietnam. Leveraging the experience and expertise of ELI's investigative team, and a regional network of informants, advisors, and skilled investigative assets, Operation Red Cloud has produced actionable data on what is the latter half of the rhino horn supply chain.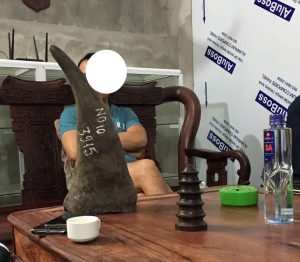 The key trends found during Operation Red Cloud that will guide further action by authorities include the following:
Rhino horn was found in nearly all locations investigated by the ELI team. The black market for rhino horn in China is stable and strong. Rhino horn and other wildlife contraband often move from Vietnam to the Guangxi or Yunnan Provinces and then to China's primary retail markets (Guangdong, Fujian, Zhejiang, Beijing).
The price identified was between $26,500 and $40,000/kg for whole raw rhino horn, and between $34 and $70/gram for cut objects (see products list and prices on the report).

Smugglers tend to use individuals to transport contraband across the border; individuals can more easily pass through the border (via a port of entry or via illicit routes) without inspection or detection.

The corruption exhibited by customs and law enforcement authorities in Vietnamese and Chinese border regions is substantial;

Most dealers do not hold a large inventory of rhino horn (whole, raw, or carved), instead, material is generally sourced on-demand and primarily sold only to familiar customers in order to avoid detection by authorities.

Similar routes are used for all types of contraband, including illegal arm and narcotics.

A seasoned rhino horn dealer, who is also a VP of the local Association of Collectors, alleged involvement with commanders in the Chinese military, where they used him to identify authentic wildlife products (such as rhino horn) for them to purchase, as well as allowed the Chinese navy fleet to pick up and carry wildlife contraband back to China.
ELI investigators also found large quantities of other wildlife products such as tiger (teeth, skins and bones), as well as ivory, bear paws, bile and gall bladders, hawksbill turtle shells, helmeted hornbill beaks, snow leopard skins, civet cats, king cobras, wolf skin and teeth, and corals.
According to Andrea Crosta, ELI's Executive Director and lead on this investigation, "It is too easy to find rhino products in China." He goes on to say that, "Given the growing size and wealth of potential Chinese consumers, we are facing a real existential threat for rhinos, even more than that for elephants, now that there are only about 25,000 rhinos left in Africa."
Mr. Crosta knows more than many the complexities of the illegal wildlife trade. As a result, he indicates, "On the one hand we recognize the challenges of containing this illegal market; stopping the smuggling of rhino horn into China and confronting the lawlessness on the Vietnamese side of the border. While, on the other hand, we don't see enough enforcement of the laws already in place. If the ELI's investigators can find and engage rhino horn traffickers, it would be very easy for the Chinese authorities to do the same and crack down on this illegal market for good."
Much of the detailed data gathered during Operation Red Cloud only appears in a Confidential Intelligence Brief (CIB) that has been prepared and submitted to law enforcement authorities in China, Vietnam, and applicable U.S. agencies. The CIB contains the names of key players, a broader mapping of network associates and enablers, the complete modus operandi of traffickers and traders, and concrete evidence of illegal activity uncovered during the investigation, as well as hundreds of photos and hours of relevant undercover footage. The final product for Operation Red Cloud is approximately 200 pages long, with detailed data on 55 Persons of Interest (POIs) directly or indirectly involved in the rhino horn trade in China and Vietnam.
Mr. Crosta expects action from CIB recipients indicating, "we worked hard to put together the CIB, an exceptional report for law enforcement agencies in China, Vietnam and the U.S., and we hope that law enforcement agencies will use the CIB to investigate on their own, and arrest and prosecute the individuals behind the illegal trade of rhino horn that is fueling the massacre in Africa."
Identifying a number key players in the trade, building actionable case files based on verifiable evidence, and sharing that information with applicable law enforcement authorities, creates some pressure on the Chinese and Vietnamese governments to act quickly, and collaboratively if possible, to work to shut down the illicit rhino horn trade.