The Trafficking of Jaguar Parts and Shark Fins in the Americas:
Applying A Criminal Convergence Framework to Environmental Crime
Operation Jaguar and Operation Stella Maris are two of Earth League International's most important ongoing operations in the Americas and Asia. On the surface, these two operations have different origins, addressing two different issues:
Operation Jaguar is the most important intelligence-gathering operation on jaguar trafficking from Latin America to China, in collaboration with IUCN Netherlands and funded by the Dutch Postcode Lottery.
Operation Stella Maris is the first Pan-American intelligence-gathering operation on shark fin trafficking from Latin America to Asia and the United States, aimed at identifying all of the highest-level shark fin traffickers in Latin America and their trafficking networks.
These operations were designed to gather information about distinct trafficking networks involved in the illegal trade of two different kinds of wildlife products: jaguar fangs and bones (to be sold in China as tiger parts) and shark fins. Yet, the most impactful finding of these operations is the discovery that these trafficking networks substantially overlap – the same high-level players using their expansive resources/networks to traffic multiple species internationally
This evidence speaks to a core principle of our work- Criminal Convergence.
Criminal Convergence refers to the merging and blending of an ever-expanding array of illicit actors and criminal networks (Miklaucic & Brewer, 2013). Despite being widely recognized as one of the largest forms of transnational organized crime, environmental crime has been primarily treated as an environmental/conservation issue, failing to be properly contextualized within the broader framework of convergence.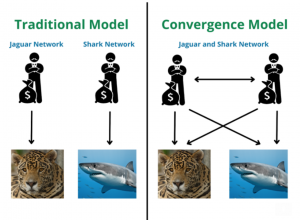 ELI's Operations Jaguar and Stella Maris provide concrete evidence of convergence and gather directly from transnational organized crime networks and their associates. Through our work, ELI has defined, instituted, and analyzed a suite of 4 Convergence "Types" based on the first-hand empirical data from our operations. We conceptualize four types of convergence:
1) Multiple Species Convergence
2) Multiple Environmental Crime Convergence
3) Multiple Crime Convergence
4) Transnational Network Convergence.
The intelligence we gather regarding the various types of convergence is a critical component of effectively stopping environmental crime, as it provides government and law enforcement authorities with multiple forms of actionable intelligence to effectively intervene and destroy these trafficking networks. After analyzing information from various sources. ELI produces and shares Confidential Intelligence Briefs (CIBs) with relevant law enforcement and government agencies, including in the United States.