SEAS OF SHADOWS WINS SUNDANCE FILM FESTIVAL AUDIENCE AWARD. 
NATIONAL GEOGRAPHIC BUYS IT FOR $3M.
Earth League International Featured in Another Powerful Leonardo DiCaprio-Produced Documentary & On Stage As Film Wins Sundance
 2 February 2019, Los Angeles, California: Earth League International (ELI) is extremely proud to have been onstage representing Sea of Shadows when the film won the Audience Award in World Cinema Documentary category at the Sundance Film Festival this past weekend. National Geographic Documentary Films has secured worldwide rights to this powerful environmental documentary.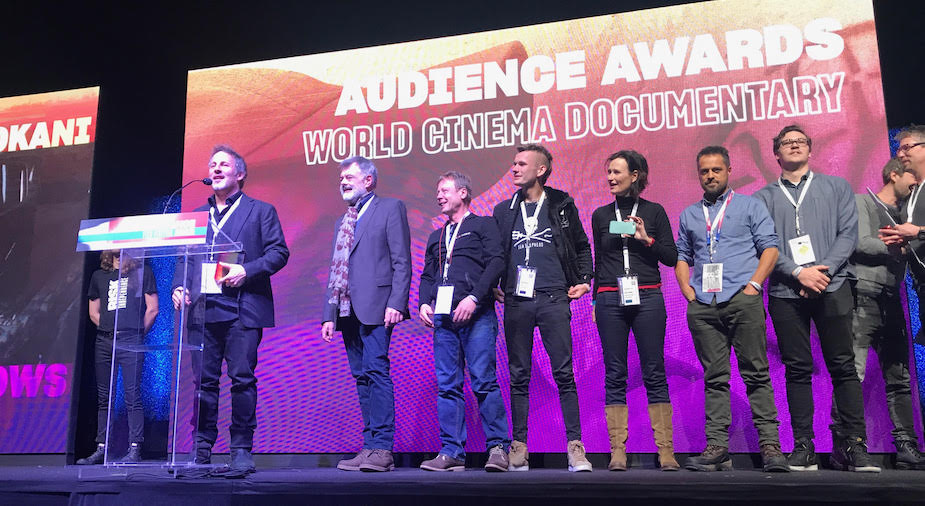 The "courageous undercover agents" featured in the film are led by ELI's co-founder, Andrea Crosta. The film follows ELI's Wildlife Crime Division as it investigates the illicit contraband at the center of this escalating war between conservationists and both Mexican drug cartels and Chinese Mafia, the gas-filled swim bladders of the totoaba fish. Native to the Sea of Cortez, the totoaba are being poached at an alarming rate because of a superstitious belief among some in China that their bladders — which cost more per ounce than gold — possess miraculous healing powers. Nicknamed the "fake gold" or "cocaine of the sea," these extremely rare fish have triggered a multimillion-dollar black market that threatens not only their existence, but virtually all marine life in the region.
In response to the dire circumstances facing the vaquita as by-catch of the illegal totoaba trade, ELI commenced Operation Fake Gold, a 14-month investigation on two continents mapping the entire illicit totoaba maw (swim bladder) supply chain. The investigation took ELI's Wildlife Crime Division agents from the Baja California peninsula to Southern China's Guangdong Province.
The resulting public report, Operation Fake Gold, was the first of its kind to shed light on the intricate and dangerous criminal organizations behind the poaching and trafficking of totoaba, Totoaba Cartels and Chinese businessmen residing in Mexico. Much more detailed Confidential Intelligence Briefs were also shared with trusted Chinese and Mexican authorities – the most significant amount of confidential information on this illegal trade ever identified.
Director Richard Ladkani finds incredible access and paints a 360-degree view, capturing striking observational footage of the action to protect the Sea of Cortez, which Jacques Cousteau called "the aquarium of the world." According to Ladkani, "What is happening in Mexico is yet another example of human-caused devastation due to the greed of a few. By illuminating the problem through cinematic and compelling storytelling while offering solutions and captivating heroes with a cause, I hope to help save this precious ecosystem, which is on the verge of total collapse."
Andrea Crosta, ELI's co-founder and Executive Director, along with another of ELI cofounder, Gilda Moratti, the eldest daughter of former Italian Minister Letizia Arnaboldi Brichetto and the magnate Gianmarco Moratti, both be attended the Sea of ShadowsSundance premiere and subsequent award ceremony.
Crosta indicates that "Bringing awareness and illuminating the significance of ELI's work and the need to fight wildlife crime is our central goal. We believe it is important to work with top partners in the film industry to produce content that can reach the most people possible, and we are among the very few NGOs in the world that can provide such content."
Sea of Shadows Produced by Terra Mater Factual Studios in collaboration with Leonardo DiCaprio's Appian Way, it was directed by Richard Ladkani/Malaika Pictures, in collaboration with Wild Lens Inc.
Premiered at the Sundance Film Festival 2019, it will be released during 2019.
@SeaOfShadows #SeaOfShadowsFilm # VaquitaUndercover #cuttheNet
Operation Fake Gold: The Totoaba Supply Chain – From Mexico's Totoaba Cartels to China's Totoaba Maw Wholesalers – An Illegal Trade Killing the Vaquita
https://earthleagueinternational.org/wp-content/uploads/2018/07/EAL-Operation-Fake-Gold-Final.pdf